Let's examine a scenario all too common for divorced parents and their children. Imagine you just finalized the divorce from your spouse. Your retirement plan from work and your life insurance policy are the largest assets you own, and you have designated your two minor children to receive the money from these accounts when you pass. Your divorce was rather nasty, so of course you do not want your spouse to receive or manage the money in these accounts after you're gone. They cannot be trusted to pass the money down to your young ones.
You pass away one year later. Both of your kids are still under 18, so in order to receive any assets from your retirement or insurance plan, an adult must be appointed to collect it on their behalf. Of course, the court's obvious choice of who will take management of the assets is the living parent of your children: your ex-spouse. In Nevada, the caretaker of the money is called a guardian. The guardian has complete control over the funds since your children are not legally able to manage significant assets.
Most often, the loved ones of divorcees bare the brunt of their poor use of estate planning tools. While naming beneficiaries to receive your insurance or retirement assets has good intentions tied to it, these basic tools are often rendered useless by the complexities surrounding dissolved relationships. With the proper planning tools, there are means to fully protect your children's inheritance against the unknowns.

Adopting a Trust
A trust is a powerful tool that lets you direct and control your estate in ways no other life plan process can. Trusts enable you to manage property while you're alive, then quickly transfer it upon death. The trust is comprised of a few main players. The person that sets up the trust (you) is often called either the Trustmaker, Grantor, or Settlor. Next is the Trustee, who manages the trust's owned assets. Usually, you're the Trustee during your life, then you appoint someone else as trustee to manage the assets when you're no longer able. Finally, there are the Beneficiaries. These are the people you designate to receive the benefits of the trust (often your children and close loved ones).
Trusts: Protecting Your Children's Inheritance After a Divorce
A trust protects your children's inheritance in a few ways:
A trust gives you the power to select the Trustee, meaning you can choose someone other than your ex-spouse to manage any assets after you pass. If compelled, you can even specify that your ex-spouse is never permitted to be a trustee. This ensures that the person you designate is truly to be trusted with transferring the inheritance to your children when they are of age.
The ability to select the Beneficiaries is key. You can even lay out how you'd like the assets in the trust to be used by them. For instance, maybe you want them to go to college or put money towards their first home. Your intent ensures your legacy is used by your children and loved ones in the manner that you want, rather than be mismanaged or quickly squandered. It also protects it from the whims of an ex-spouse or court opinion on how it should be used.
Probate is a public, lengthy, costly process. A fully-funded trust avoids it entirely, saving your intended beneficiaries money on legal and court fees. Without a trust, "plain" beneficiaries may have to navigate such instances as guardianship and conservatorship cases. A little bit of planning to set up a trust will save a lot of energy when the unexpected occurs.
Recently Divorced? Contact AD&R to Set Up a Trust.
Gaining full control of how you'd like your legacy to be utilized by you beneficiaries is crucial, especially after divorce. Even if you are wondering whether to update estate plans, Anderson, Dorn & Rader can help to map your trust assets with a comprehensive life plan. We are Reno's trusted estate planning lawyers. Give us a call or set up an appointment to speak with our knowledgeable staff today.
According to recent, prominent studies, nearly two thirds of American adults do not have a formal estate plan set up.
For those in the minority who have prepared a living trust, will, or other estate documents, you're one step ahead. However, just because you've established these initial steps doesn't necessarily mean your estate plan is settled. A thorough estate plan requires continual updating as circumstances change. Even if you have been good about making updates, there are crucial components you may have overlooked. Designating beneficiaries and decision makers for retirement accounts or life insurance policies are a prime example.
Your designated beneficiaries and decision makers are living people, so it's important to consider what may also happen to them. Even the most well thought out plans can go awry, but proper consideration of all potential scenarios can play a large role in ensuring your wishes stay intact after you're gone.

Are Backup Decision Makers Necessary?
Short answer: Yes. A proper estate plan lines up multiple decision makers to carry out your wishes.
Personal representative: This appointed individual ushers your estate through the process once you pass
Trustee: This individual manages your trust's monetary and property assets
Guardian: The individual given the legal responsibility to care for your children should you pass before they are able to live independently
Power of attorney agent: The individual appointed with the legal authority to take care of medical and financial matters for you in the event that you become incapacitated
You should put careful thought into determining which individuals to appoint as decision makers. They'll need to be trusted, as important decisions regarding your affairs will come their way. It's also possible that at some point, they will no longer have the capacity or willingness to carry out the decisions asked of them. This is where backup individuals are important. We recommend having at least two backups for each of the above positions.
People, and your perception of them, can change over time. Some of these changes will impact their capacity to fulfill your last wishes. For instance, the person you initially designate as trustee might turn out to lack knowledge of finances. This raises a red flag, because they'll be the one handling your money after you're gone. And if your designated guardian turns out to be not so great with children, you'd want to reconsider who you appoint to take care of your kids.
There doesn't need to be any suspicious behavior to influence a decision maker change. Often times, something as predictable as age plays a factor. Somebody who you designated as a guardian when they were in their 40's may not be as fit for the position in their 60's. On the same token, someone too young to appoint as a guardian now may be ideal in ten or so years.
A backup decision-maker is also necessary to replace one that dies, becomes disabled, or expresses that they no longer wish to take on the responsibility of a designated position.
The main thing you should takeaway is to continually check in on your choices for designated decision makers and name backups when necessary. Alternatives act as a fail-safe to ensure that people you love and trust – not the courts – end up making decisions on your behalf after you're gone.
Who Will Look After Your Pets?
Your furry, feathered, and even scaled friends are part of your family. Often, they require more day-to-day attention and care than children. So who will take care of them when you're no longer around?
Pets are certainly not overlooked in your daily life. Some sleep on the bed, eat like royalty, and get groomed handsomely. But it's possible that your pets weren't given much thought in the midst of planning your estate with an attorney. After all, there's a lot on your mind during the process.
Believe it or not, you can name a legal guardian for your pets after you're gone. Similar to other designated positions, it's helpful to have backups lined up if your first guardian choice doesn't work out. Additionally, you can include information on how they can find a suitable home or shelter to be surrendered to in the case that no one can care for your pet. Aside from addressing who the caretaker will be, it's beneficial to write out your wishes for how your pet should be cared for. This way, the designated guardian will know all of the animal's quirks, medications, allergies, and their favorite spot to be rubbed.
Are your Contingent Beneficiaries Lined Up?
A named beneficiary is the individual within your estate plan who will inherit your monetary and property assets when you die. When you pass and your estate is administered, your assets are distributed or managed by your designated beneficiaries. Some instances require a contingent (backup) beneficiary.
The primary beneficiary dies before you
The primary beneficiary's location is unknown
The primary beneficiary refuses to accept their inheritance
If you do not have a contingent beneficiary in these scenarios, your assets may be dealt with according to state law. This often involves enacting the probate process. This lengthy process can delay asset distribution, lead to increased settling costs, and cause family infighting. To avoid these unfavorable outcomes, it's best to designate one or more contingent beneficiaries for the benefit of everyone.
Always Think of the Unthinkable
It's not fun to think about, but you should be prepared for the unthinkable situation where all the loved ones you designate as beneficiaries pass away before you.
Yes, it's highly unlikely, but it's happened before. In this case, having contingent beneficiaries will not suffice because nobody will legally be able to accept the assets in your estate. Depending on your state of residence, if you have no surviving beneficiaries, the government could obtain all your money and property by default.
Even though it's uncommon, this scenario could afflict those with few living relatives. By adding a family disaster plan or remote contingent beneficiary to your estate documentation, you are able to designate a charity or organization that will receive your assets.
Preparing Your Estate for the Unexpected
Unexpected life events can often prompt people to take action on their estate plan. At the very least, one should have a basic will, but many people still put off accounting for their assets once they're gone. Procrastination, a perceived lack of money and property, and concern for the cost and energy required to implement an estate plan can turn some away from the process.
The estate planning process is not as costly or intensive as you may think, especially when hiring a knowledgeable estate sale lawyer. And considering the cost of NOT having an estate plan, it would be selfish to leave your surviving family with the burden. Not to mention, your hard-earned assets could end up in the government's hands if not prepared adequately. For those who have already taken steps to secure their estate plan, this is a great start. With effective back-ups to weather the unexpected, your life plan will be able to determine who will make decisions, take care of your pets, and inherit your assets after you have deceased.
No matter where you are in the estate planning process, we encourage you to reach out to our real estate lawyers to ensure that everything you worked for in your life goes to the people you love and trust. Contact Anderson, Dorn, and Rader to begin your journey to peace of mind for you and your family's future.
Guardianship provides a legal solution for a person who has grown concerned that a loved one is physically or mentally sick and cannot make decisions on his own any more.
You do not want to watch your family member or friend make bad decisions because of dementia or lose his life savings because he is in a hospital with an end-stage illness and cannot manage his assets. Guardianship ensures that you don't have to sit helplessly by in these or other situations where someone you care about needs your help.
If someone in your life cannot manage his own affairs, act of his own accord, or make reasoned decisions due to illness or injury, you may need to initiate guardianship proceedings to take control. Anderson, Dorn & Rader, Ltd. can help. Give us a call today to get answers to questions including:
Is guardianship necessary?
How does guardianship work?
How can a Reno, NV guardianship lawyer help me?
Is Guardianship Necessary?
Far too often, people are suddenly stricken by physical or mental illness. Sudden injuries also occur more than most people want to think about. A person who gets sick or hurt may be left unable to do things like decide where to live or make any choices on asset management.
Ideally, a plan will be in place before incapacity happens. A person who plans ahead can use a tool called power of attorney (POA) to name an agent who will take over decision-making for the POA-creator when illness or injury strikes.
Other tools can also be used to plan for incapacity, including advanced directives for healthcare. Anderson, Dorn & Rader, Ltd. helps with the creation of a comprehensive incapacity plan.
If there is no plan, guardianship can become the only choice. With guardianship, an incapacitated person can no longer decide who should act for him. Instead, guardianship proceedings must be initiated so the court can give power to the guardian.
Guardianship can also be necessary outside of emergency situations, too. For example, all children under 18 need guardians because they don't have the capacity to act. Unless parents pass away, are unfit, or give up up parental rights, parents are guardians until a child is 18 or is granted emancipation.
If a person is disabled all his life, parents can continue to be guardians even after the child is an adult. However, parents of the special-needs child will need to make appropriate provisions for a guardian after they are gone.
How Does Guardianship Work?
If you believe guardianship has become necessary, the first step to take is to talk with a Reno guardianship lawyer. Your attorney can assist you in determining if guardianship is appropriate under the circumstances. Your guardianship lawyer will also begin working to conduct an investigation, if necessary, to prove incapacity. Finally, your attorney can take care of filing papers with the court to ask the court to appoint a guardian.
When you ask the court to appoint a guardian for another person, you must prove several different things to the court.
You have to show a guardian is actually needed because the "ward' (the person who needs the guardian), is in fact unable to act on his own. The court will determine competency and will provide the allegedly incapacitated person a chance to argue not to have a guardian appointed.
After the court makes a decision that a person is not competent, the court will next consider who should be a guardian. The court does not have to choose the person who initiated guardianship proceedings. The court should select the person believed to be the best choice for managing the affairs of the incapacitated person. Leaving this decision up to court control is another reason why making advanced incapacity plans is so important— you want to decide, not a random judge who does not know you.
After a guardian is appointed, the guardian can begin to exercise authority in order to determine what must be done to help the incapacitated person. There will be regular court oversight of the guardianship relationship to ensure that the guardian is fulfilling his role.
How can a Reno, NV Guardianship Lawyer Help Me?
Anderson, Dorn & Rader, Ltd. can provide the help you need to address difficulty issues in your life, such as planning ahead in case of incapacity or responding in situations where someone you care about has become incapacitated and needs a guardian. Give us a call at 775-823-9455 or contact us online to find out more about how we can help you.
One of the common reasons parents put off planning for guardianship of their children is that they are looking for the right person. Of course, you want someone who will raise your children with the same values you hold, but finding the perfect fit may not be possible. In fact, it is not very likely. Instead, you need to find someone who has a similar belief system and who is also willing to instill in your children the values you hold.  Learn more about guardianship in this presentation.
Clients with minor children find that one of the hardest decisions in the estate planning process is how to choose a person or family to care for those children in the unfortunate event of the parents' incapacity or death. Here are some steps that might help in this decision making process.
Make a List
The easiest place to start is to make a list of anyone and everyone who could be a good guardian for your minor children. Ask yourself, "Would this person/family provide a better home for our children than the State?" This is a good point of reference, since the alternative to naming your own guardian is to have the children placed under State supervision (such as foster care) until a guardian can be named (which may not be someone that you'd prefer). This list could contain dozen of names, but ideally should have at least 4 or 5 people, couples, or families that you trust with the care of your children. Make sure to think beyond immediate family, such as brothers and sisters. Many clients choose cousins, aunts and uncles, grandparents, and friends as guardians. Try not to let money matters affect your list, unless the potential guardian lacks basic money management skills, since things such as life insurance can ensure your children's material well being.
Decide What Is Important
Make a second list of those things that are important to you. Do you want your child to be raised with a certain religious belief? Is it important that your guardian be of a certain age, or that they have a certain threshold for patience and maturity? What is important to you in looking to your guardian's child-rearing philosophy? Is marital or family status of a guardian important? Your guardian will be a role model for your children, so it's important that you understand what that person to be. You may be able to exert some influence on your guardian's behavior in raising your children (they might be willing to go to church with your child, if they don't already, they might change some social and moral habits to accommodate your parenting wishes, etc.). However, there are some characteristics that will not change; a person's integrity and financial management skills are unlikely to change by becoming a guardian.
Match
Congratulations! Once you have completed these first two steps, you have a list of potential people that you support raising your children, and you have a list of factors that are important to you in how you want your children to be raised and what you look for in a guardian. Looking at these two lists, you should be able to narrow down the list of candidates to make the decision much easier. While this is an easy step for many families, this may be difficult if there is a disagreement between the parents. Mom may want her sister to be the guardian, while Dad may want his cousin's family to care for the children. Consensus is important! Use this as an opportunity to have a much deeper conversation about the people and values, and try to understand each other's position in order to find a solution that you both feel good about. Remember - it is important to have more than one potential guardian on your list, as successor guardians should be named in your estate planning documents.
Open Discussions
While it's not a legal obligation to clear this decision with the guardian of your choice, it's a good idea to have a conversation with them about it. This can be an opportunity to really develop deeper relationships. Many times, we see that those family members or friends asked to be guardians will want to take a more active role in the life of the child, as a god-parent would in some religions. Ask the guardian if they are willing to support the care of your children, and start discussing what that family structure would look like. This is a good place to discuss the list of values that are important to you (the list that you wrote in Step 2, above). Focus on what you want for the growth and development or your children as you communicate this with your guardian.
DO Something About It
The worst mistake you can make is to go through this process and to avoid the final step of drafting the proper language in your estate plan. Make sure to meet with your attorney to ensure that the guardian is nominated in your trust or will. Try to avoid off-the-shelf guardianship forms, as they likely don't address state-specific benefits. For example, in Nevada a person can appoint a temporary guardian to take care of the kids while the permanent guardianship is settled - which means that your minor children may avoid being placed in the custody of the state for even a minute.
There are other times when certain legal forms should be considered for minor children. For example, if your minor child is travelling within the U.S. under the care of someone else, or if your minor child is travelling outside the U.S. with only one parent, you can have your attorney draft the proper Certification of Consent for Minor's Travel forms to make this process easier.
At Anderson, Dorn, & Rader, Ltd., we regularly help clients handle these issues where there are minor children involved. If you reside in Nevada or California, please feel free to reach out to us to discuss these issues by calling our office at (775) 823-9455.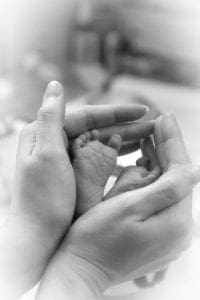 Estate plans are very important for many different reasons.  Typically, an estate plan includes a will or trust, a power of attorney and advance medical directives.  But, for a young family with small children, there are other distinct issues that should be addressed in an estate plan.  The primary concern becomes, what will happen to the children if the parents were to die simultaneously.  Couples with minor children need to take special care to plan for this unfortunate event.
Who will care for the minor children?
Have you considered who will care for your children if you and your spouse died simultaneously?  Whether in a car accident, plane crash, or some other unforeseen tragedy, your minor children may be left with no one, and the state may have to step in.  Without your guidance, there is no guarantee that they will end up with the best person to care for them.
Guardianship
If you want to have a say in who that person will be, naming a guardian in your Will is the best way to establish your wishes.  Nevada has special laws that allow you to appoint a temporary guardian while the Court approves the guardianship to ensure that your children do not spend a single minute in the custody of the State.
How will your estates' assets be transferred to your children?
Without an estate plan, your child will inherit his or her share of both parents' estate, to be held in an estate of the minor account under Nevada's Uniform Act on Transfers to Minors.  The guardian will be able to request distributions of the money in order to provide care for the child.  Then, once the child has reached the age of majority in the state where he or she lives, the remaining assets of the estate will be distributed directly to the child.  This would be true, regardless of whether or not the child is capable of managing the money.
Trusts for minor children
Parents can create a trust for their minor children, as part of their overall estate plan, which will hold any assets that are transferred to the children while they are still minors.  There can be a provision in the parents' will that creates the trust for the minor children, and also names the trustee to invest, distribute and manage the assets.  This will be done for the benefit of the minor children, in accordance with the terms of the trust.
Typical distributions from a minor trust
The most common types of distributions from trusts for minors are for healthcare, education, general maintenance and support.  Leaving assets in trust provides great tax benefits, asset protection, and divorce protection for your children throughout their lifetime. In Nevada, these benefits can be passed down to your grandchildren, great-grandchildren, great-great-grandchildren... for up to 365 years.  Alternatively, the trust can be designed to terminate when the child reaches a specific age, not necessarily the age of majority.  Another way to distribute the funds is by increments at specific ages.  For example, the child can receive 1/3 of the trust at age 21, another 1/3 at age 30 and the final portion at age 35.
Overall, a primary goal of estate planning for families with small children, is to ensure that the child will be placed with an appropriate guardian and cared for financially until adulthood.
If you have questions regarding trusts for minors, or any other estate planning needs, please contact Anderson, Dorn & Rader, Ltd., either online or by calling us at (775) 823-9455.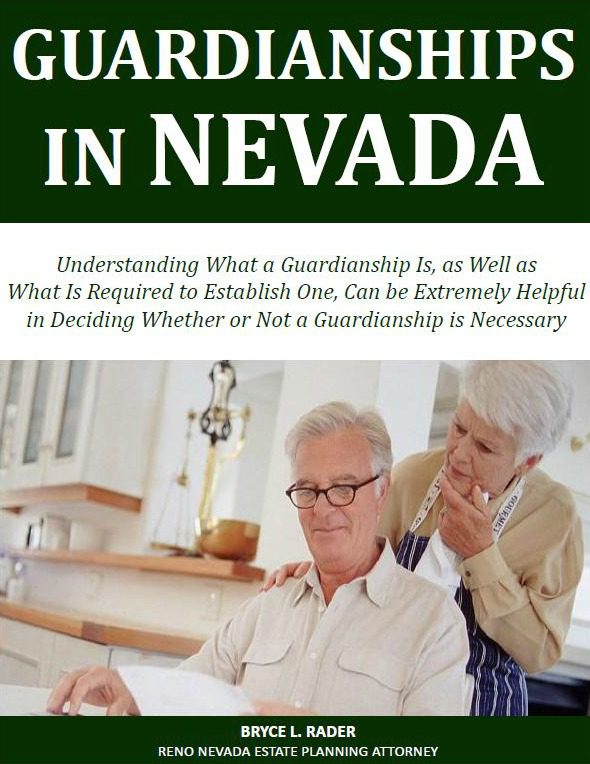 Understanding what a guardianship is, as well as what is required to establish one, can be extremely helpful in deciding whether or not a guardianship is necessary. 
Topics covered in this whitepaper include:
Determining Incapacity
What are the Duties of a Guardian in Nevada?
Some Advantages of Guardianships
Some Disadvantages of Guardiaships
Alternatives to Guardianship
How Do I Know it is Time to Take Action?
Click here to read the whole article or download the PDF.
If you are one that likes to be prepared for life's eventualities then you should consider the possibility of mental incapacity.  According to the Alzheimer's Association 13% of senior citizens suffer from Alzheimer's disease, and this rises to about 40% among individuals who have reached the age of 85. Alzheimer's causes dementia among other things and people who are suffering from dementia can find themselves unable to make sound decisions.
To prepare yourself, you may want to consider creating a living trust with incapacity safeguards included.  In many cases the grantor will serve as the trustee while he or she is alive and fully capable of decision-making. However, you could also name a disability trustee who would administer the resources in the trust if the grantor and primary trustee was to become incapacitated.
In addition, durable powers of attorney are recommended as a way to empower people of your own choosing to make decisions in your behalf should you become unable to do so in the future due to incapacity.
If interested parties were to suspect that you have become incapable to manage your own affairs effectively they could petition the court to appoint a guardian to make decisions in your behalf.  This can be an expensive, time consuming and humiliating process.  This possibility can be avoided if you plan ahead intelligently.  The best way to do so is with the assistance of an experienced and licensed Reno estate planning attorney.

There are a lot of details to take into consideration when you are planning your legacy, and the best way to address them is with the assistance of an experienced estate planning attorney. Rather than being consistently confronted with a series of unanswered questions as you think things through it is much simpler and more efficient to sit down with a legacy planning professional and work through the process from an informed perspective.
Experienced estate planning attorneys know how to proceed under any circumstances and they also understand how to adjust your estate plan on an ongoing basis as changes both within your life and throughout society as a whole take place that impact your existing plan.
One of the intricacies that people often face when they are engaged in inheritance planning involves providing for minor children. There are a number of different ways to proceed, and one of them would be to create a trust and make the child the beneficiary.
You can stipulate whatever you would like to in the trust with regard to what expenditures the trust is empowered to make in behalf of the child while he or she is still a minor. The grantor could then go on to set forth the terms for distribution of assets after the child becomes a legal adult.
Some people allow for the transfer of the total lump sum when the child reaches a particular age, and others arrange for more gradual distributions. You could even choose to include incentives such as allowing for regular distributions while the beneficiary remains in college with a lump sum to follow upon graduation.
Short of creating a trust you could name a property guardian in your will or appoint a custodian under the Uniform Transfers to Minors Act. At a minimum, parents of minor children must have a will where a guardian of the person of your children can be named.
Providing for minor children is an important part of many estate plans. If you would like to learn more details, simply arrange for a consultation with an experienced estate planning attorney.