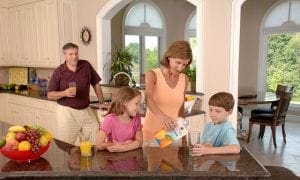 Families with minor children must do at least some basic estate planning, as soon as possible, in order to be prepared for the unexpected.  Having a good plan in place will answer some very important questions, not only for your family but for the court, in the event you are not around to take care of your kids.  We present three of the biggest questions families with minor children should consider in their estate planning.
Who should raise your children?
By far the most important question to be answered is who will raise your children if something happens to you.  That is a decision that has the potential to significantly shape your children's lives.  The guardians chosen will be responsible for your children's education, lifestyle, and general well being.
In choosing a guardian, most parents will want to consider a number of factors, including parenting philosophies, religious beliefs, location, discipline styles, personal values, personality types, and temperament.  Money can be a factor, but should not be the sole factor in choosing a guardian; it is the parents' responsibility to provide for their children financially, even after their death.
Once the decision is made, those details need to be incorporated into your estate plan.  This serves more than one purpose.  Of course, planning ahead for the unexpected will put your mind at ease.  But it will also keep your family from fighting about who should have your kids.  The natural affinity that parents feel for their own children will likely cause great disputes between the grandparents and/or in-laws about who would do a better job raising your children.  The proper estate plan can head off a bitter custody fight.
Your estate plan should include multiple guardianship roles.  First, your plan should appoint a short-term, or emergency, guardian.  This is generally someone close in proximity who can pick up the children in the event of emergency.  A short-term guardian may be appointed for a maximum of six months.  If a guardian is needed for longer than six months, your plan should also appoint a permanent guardian.  The permanent guardian is the person responsible for raising your children.  The permanent guardian and short-term guardian need not be the same person, and different factors should be considered when naming each.  Your estate plan may also appoint a separate health-care guardian who will have the power to make medical decisions for the children.
Who should manage the assets and insurance proceeds?
Without a general estate plan, your minor children would still receive the asset from your estate through the laws of intestate succession in your state.  The problem is, these assets will not be managed by someone that you choose.  Instead, they will be overseen by the court.  To receive any assets or funds, someone will need to petition the court on behalf of your child.
Instead, you can create a trust which will name the trustee of your choice to oversee your children's money until they are mature enough to handle it themselves.  The trust will only go into effect if certain conditions are met, such as the death of both parents.  The trustee of the funds may be the same person as the guardian of your children, but many people find it beneficial (and risk-averse) to separate the role of guardian and trustee to avoid any concerns that the guardian will spend your children's inheritance.
When should your children have access to their assets?
As stated above, without a named trustee to manage your children's finances, the court will manage the estate.  One problem, for most parents, is that the court automatically loses the authority to manage your children's money once they have reached the age of majority in your state.  In some states, including Nevada, a child will take over the inheritance once they reach the age of 18; and you should ask yourself, "Is my 18 year old ready to walk into a large lump sum of money?"  Many parents may not agree that their children are wise or mature enough to properly manage those funds.  When you create a plan yourself, you can indicate when the funds should be released to your children - whether you decide they will be financially mature at 25 years of age, 30 years of age, or older.
Other issues for families with minor children
While planning to deal with guardianship and finances for your children is important, it's just as important to make sure you have all your other ducks in a row with your estate planning.  A well drafted estate plan should plan for issues that are important to you: avoiding taxes, allowing for flexibility, appointing fiduciaries, addressing health care issues, etc.  The first step in the estate plan of families with minor children is to think about the children, but it's also important to plan for issues that arise as to the parents as well.
These are just a few issues families with minor children may face in the estate planning process.  Discuss these issues with your estate planning attorney.  If you have questions regarding planning for families with minor children, or any other estate planning needs, please contact Anderson, Dorn & Rader, Ltd., either online or by calling us at (775) 823-9455.