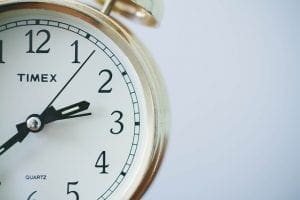 There are three common reasons most people choose to avoid probate.  Probate is a very public process, it can be rather expensive and, for some, it can take a long time. When trying to decide whether to take steps to avoid probate, many people ask, "if my estate requires probate, will it take a long time to complete the process?"  The answer is that it really depends on several factors.
The length of a probate proceeding depends on the estate
The length of time it will take to close the probate of an estate depends a great deal on the size of the estate and the nature of the assets included. In most cases, basic probate proceedings last at least 120-180 days due to the need to publish notice to creditors and allow them time to file their valid claims. If there are any problems with the probate process may take longer.  Generally speaking, most probate proceedings take almost a year to complete.  If there is a contested Will, the process can stretch on for years.
Complicated or unique assets make the process longer
In reality, probate takes much longer when there are unique assets that require special handling. Most often, the most complicated asset to deal with is an operating business; if you have a sole proprietorship, partnership, LLC, or closely-held corporation, the probate process can be drawn out even longer.  When there is a Will, the probate process is often more straightforward and less difficult to handle.  With a Will, the personal representative and the heirs or beneficiaries have already been chosen and identified.  Therefore, less time is required awaiting the court's decision on those matters.
What makes the probate process so lengthy
The main reason probate takes so long is because there are many different tasks that must be accomplished in every probate case, all of which are governed by Nevada statutes. The personal representative is the person assigned to handle most of the leg work involved.  That person must follow the necessary steps, keep appropriate records, and make an accounting of the assets in the estate and what has been done with them.  With almost every step in the probate process, there are petitions that must wait for a court hearing, statutory waiting periods, and statutory timelines for certain steps to be done.
The basic steps in probate will require some time to complete
The property in the estate must be collected and inventoried.  Nevada requires that the inventory must be completed within 60 days!  Most valuable personal property, and all real estate, needs to be appraised.  There is a requirement that notice of the decedent's death be given creditors so they can make legitimate claims.  This typically means placing a Notice of Creditors in the local newspapers so that all potential creditors have a chance to make a claim and collect legitimate debts owed to them by the deceased.
A similar notice, a Notice of Administration is sent to anyone else who may have an interest in the estate.  That would include heirs and beneficiaries named in a Will. Once creditors, legal judgments, taxes and related expenses have been paid, the remaining assets are then divided and distributed to the heirs and beneficiaries.
Four ways to distribute assets in Nevada
There are four ways to distribute the assets of a decedent under Nevada law: (1) Affidavit of Entitlement, (2) Set Aside, (3) Summary Administration, and (4) General Administration. These different procedures all accomplish the same goal. However some methods are a bit more involved than others. Deciding which method applies will depend on the value of the estate, according to Nevada law.
Affidavit of Entitlement
If the estate is valued at less than $25,000 ($100,000 if the beneficiary is a surviving spouse) and there is no real estate involved, then all that is required is an Affidavit of Entitlement to transfer the estate without full probate court proceedings. Instead, the affidavit authorizes the release of the assets to the named beneficiaries.
Set Aside Method
For estates with a value less than $100,000, excluding mortgages, the assets can be distributed simply by Court Order based on the terms of the Will or the laws of intestate succession, whichever applies. With the Set Aside method, the appointment of an executor or administrator is not required.
Summary Administration
If an estate is valued between $100,000 and $300,000, it is necessary to open probate proceedings with the probate court. In that case, an executor or administrator will be appointed to manage the proceedings. With Summary Administration, distribution of the estate can only occur after 90 days. Summary Administration is more streamlined than General Administration.
General Administration
In situations where the value of the estate exceeds $300,000, then full probate proceedings are required. Creditors must be given notice so they can file their claims within 90 days. General Administration is inherently more extensive than Summary Administration proceedings. The Personal Representative obtains "Letters Testamentary" from the probate court if there is a Will, or "Letters of Administration" if there is no Will. These letters, issued by the probate court, provide the legal authority and responsibility of the Personal Representative.
Attend a FREE Webinar to learn more about probate, the reasons to avoid probate, and the way to properly execute an estate plan to do so! If you have questions regarding probate, or any other estate planning issues, please contact Anderson, Dorn & Rader, Ltd. for a consultation, either online or by calling us at (775) 823-9455.