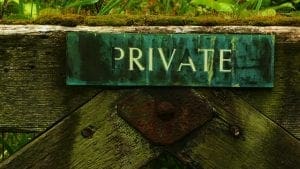 Often, members of the gay community are concerned about privacy when it comes to how they choose to leave their estate to, after death.  Indeed, privacy is a common concern for most clients.  Since there are so many options in estate planning, you have the ability to customize your plan in a way that keeps your assets, as well as your plan for distributing them, as private as you wish.  A major benefit of creating an estate plan, as opposed to relying simply on a will, is that the distribution of an estate can be kept from nosey neighbors and prying eyes.
Probate proceedings are always public
A major drawback of relying only on a will to handle the distribution of your estate is the fact that wills must be probated.  This means that a will has to be filed with the local probate court.  The only way the terms of a will can be enforced, or put into action, is through the court system.  As a result, the specific details of your will become public record, including the identity of your beneficiaries, the amount of assets you have, and who you decide to give them to.  Basically, once your will is filed in court, anyone can go to the probate court and ask to see it, and even obtain copies of your probate documents.
An estate plan using revocable living trusts provides privacy
There are many benefits to using revocable living trusts as part of your estate plan.  One important benefit is the amount of privacy that this estate planning tool can provide.  For instance, a revocable living trust is essentially a private contract between you and your chosen trustee.   Because it is a living trust, you retain authority over the trust during your lifetime, including the power to make all decisions regarding the investment of your assets and the use of income earned by the trust.  If you become mentally incapacitated, the trustee can then take over management of the trust.  Of course, upon your death, your trustee will become the decision maker, based on the terms of your trust.  Your trustee is always required to follow your instructions and distribute your assets as you indicate in the trust agreement.
Why does a revocable trust stay private?
The main difference between a will and a living trust is the fact that a trust is not required to be filed in court. Your instructions are followed immediately upon your death or incapacity, without your estate going through the probate process.  It is the probate process that makes your estate open to the public. Therefore, only your trustee has access to its terms.
If you have questions regarding privacy in estate planning, please contact Anderson, Dorn & Rader, Ltd., either online or by calling us at (775) 823-9455.