One of the most crucial decisions within your life plan is determining who will manage the estate when you aren't around anymore, or are no longer fit to do so. This individual is called the successor trustee.
A large amount of responsibility comes with being nominated as a successor trustee. Because of the complicated procedures, time they'll need to dedicate, and risks that the trustee will assume, many people consider hiring a professional fiduciary (like an estate planner) to be their trustee.
When hiring a professional to carry out the duties of trustee, you'll first need to ensure that a terms of engagement document is signed by both parties to lay out the relationship between parties. This should be a separate document from the one that identified their duties as your estate planner. You'll also want to look for the following qualifications (and potential red flags) when deciding whether to carry out the relationship.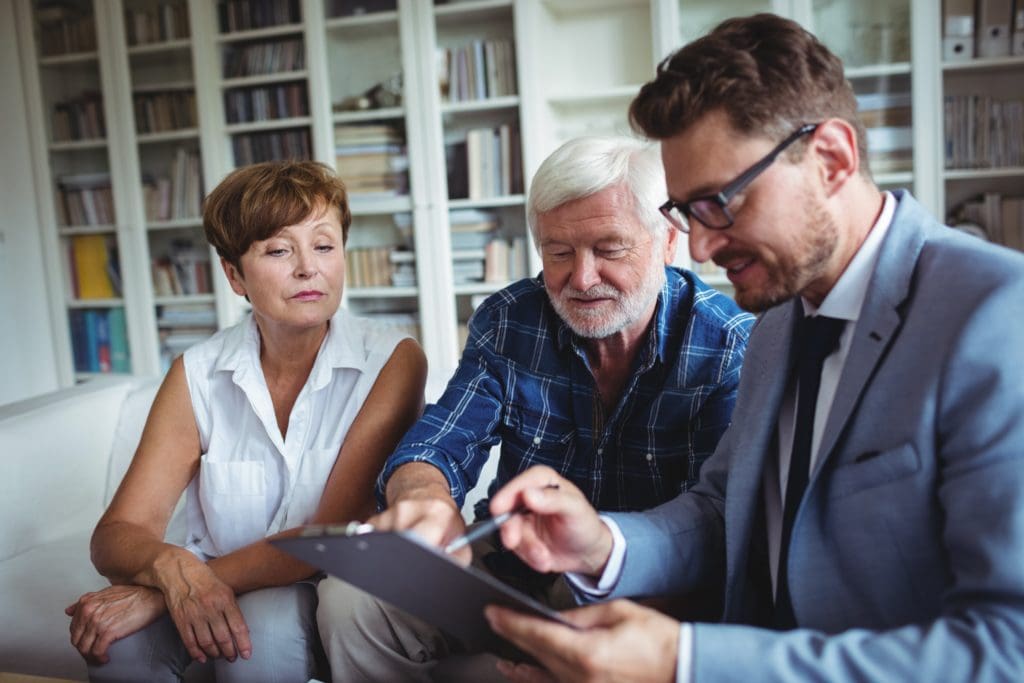 Are Their Resources Adequate?
Even if a professional fiduciary is able to draft a thorough terms of engagement document, that doesn't necessarily mean that they have all the resources to properly administer your trust. Don't be afraid to ask questions. You need to make sure that the professional fiduciary takes the trustee role seriously, and that they are well-equipped to take on the job. The below functions should be well within the wheelhouse of a satisfactory candidate for a professional trustee:
Accounting:

Detailed systems to handle the accounting elements of your trust are a must in the toolkit of your professional trustee. And this goes without saying, but they need to store your trust funds in a separate bank account from the one they conduct business out of. A system should be present to keep individual records of income and principal, capital transactions, disbursements from the account, receipts, and more. Because the professional trustee's duties include informing beneficiaries on the status of the trust when you're gone, detailed accounting is essential to providing them accurate and timely information. Never should the professional fiduciary use funds from your account to pay off expenses or benefit another client of theirs.

Further Recordkeeping:

The hired fiduciary will likely encounter other recordkeeping responsibilities as your trustee. These can include handling trust-related communication with your loved ones, tax returns (even if they outsource them), and keeping a checklist of the trust's timeline to ensure that distributions are performed accurately.

Proper Staffing:

The more experience that your professional trustee's staff has with handling your estate, the better. Their office may be handling more than one trust at a time, so it's imperative that they have the resources to keep your affairs organized and accurate.
Accessibility
Even seasoned estate planners who take on the responsibility of trustee can find it difficult to fit your estate management into their schedule. The professional that you hire should be responsive and accessible. This is especially the case when the trust requires critical decisions related to distributions, beneficiary health, maintenance, education, and support. After you are gone, your beneficiaries will also be in constant contact with your hired fiduciary, and even more so when distributions are made on a reoccurring basis.
For instance, one of your beneficiaries may request an early distribution to cover the expenses of a medical procedure. Or perhaps the period to take advantage of government benefits is drawing to a close on a distribution amount. Will your professional trustee pick up the phone or quickly respond to an email in these instances? Proper communication is paramount to deal with the intricacies of your family's lives, and your hired trustee must be passionate about providing them service when needed.
What is the Trustee's Succession Plan?
No one can work forever, and even your hired trustee must retire at some point. Do they have a plan in place to transfer their responsibilities to another individual or firm? The terms in your trust should outline who will become your successor trustee, but in the case that your trust puts the power of designating the successor in the hands of the trustee, you'll want to ask your professional fiduciary who will fill their place if something happens to them.
Will the Nominated Fiduciary Work Alongside Your Beneficiaries' Advocates?
Some instances will require your professional trustee to communicate with the caregivers of your beneficiaries. This could be due to the beneficiaries being minors, or perhaps because they are disabled.
In the case that a beneficiary is not able to manage the assets they're gifted in the trust, it's vital that your professional trustee can communicate with caregivers to understand their needs and translate them into actionable estate management duties.
Northern Nevada Trust Attorneys
After applying these suggestions when considering a third party trustee, notify them of your decision to nominate them. Even though they won't assume trustee duties until you are unfit or no longer around, being proactive benefits the planning of your affairs.
Your nominated professional trustee does not necessarily have to accept the position. But by finding out if they'd like to take on the responsibilities sooner than later, you'll have ample time to make an educated decision if you need to select another individual.
If you have any questions about selecting a professional estate planner to be your trustee, the knowledgeable attorneys at Anderson, Dorn & Rader can help. We offer Trustee Services to help guide you in the process of choosing an adequate trustee to carry out your wishes and preserve your family's wealth.
Schedule a FREE consultation to discover the benefits of choosing Anderson, Dorn & Rader as your professional corporate trustee. We look forward to serving your needs with a high level of professionalism, experience, and dignity to match the values of your family.
Trusts are an essential part of legacy and estate planning as they provide the best security over a person's assets during and after life. A trust allows a grantor, or creator of the trust, to set aside possessions and assets for assigned beneficiaries following their death or incapacitation. There are several types of trusts to choose from, but regardless of this, you're going to require the assistance of a successor trustee to manage the trust in the event that something happens to you. If you're asking yourself "what is a successor trustee and why do I need one?", you're not alone. Take a look below to learn more about successor trustees and how to go about selecting them.  
What is a Successor Trustee?
A successor trustee is a person or group of people appointed to manage a trust when the grantor is no longer capable of managing it themselves. This may be due to the grantor becoming incapacitated, losing the ability to make decisions, or passing away. The successor trustee is responsible for administering and settling a trust in the event that one of these circumstances occurs. 
Duties of the successor trustee vary case by case as these terms are set by the grantor, but most commonly, trustees are responsible for overseeing the trust and managing the distribution of assets when the time comes. They will also be responsible for notifying relatives and proper institutions of the death or incapacitation. Often, the role of successor trustee lasts for many years making it a rather large commitment that may also be quite time-consuming.  
Successor trustees can be any trusted adult you choose such as adult children, relatives, trusted friends, or professional trustee services like those from Anderson, Dorn & Rader. 
How to Select a Successor Trustee
When it comes time to select a trustee, the grantor has a few options. It may be recommended that one person be appointed to serve as the successor trustee or it may be suggested to have multiple trustees. Having a single person act as successor trustee helps avoid potential conflicts between co-trustees during the administration of the trust. For this reason, it's a common approach in estate planning to assign one person as the trustee at a time. So long as the successor trustee maintains contact with beneficiaries, keeps them informed about the trust administration, and fulfills the trustee's responsibilities under both the law and the provisions of the trust document, appointing a single successor trustee can be a great option.
However, many trust makers are reluctant to place the entire responsibility for trust administration on just one person. Because of this, a grantor may appoint two or more trusted adults to serve as successor co-trustees. This method may be beneficial not only for the trustees but for the grantor as well. For instance, dividing the trustee's responsibilities will help make the job of serving as a trustee much more manageable. To explain, a grantor may appoint a professional trustee service to be in charge of handling trust investments or accounting and tax information while another appointed trustee such as a family member or friend handles the distribution of assets and other similar duties. Likewise, having successor co-trustees may ensure the process of checks and balances which ultimately safeguard your trust from potential abuses of authority.   
Advantages and Disadvantages of the Co-Trustee Approach  
To determine whether your trust will be better in the hands of a single successor trustee or multiple trustees, you need to first understand the advantages and disadvantages of having successor co-trustees managing your trust. Some of the advantages of the co-trustee approach include:
Underscores the creation of checks and balances that prevents a single trustee from abusing their authority.

Shares and separates the responsibilities of trust administration for expedited results. Such responsibilities may be appointed based on the trustee's strengths and skills which may also improve results.

Improves the line of communication through each channel. If one trustee is not available, it's likely that another will be. 

Beneficiaries of the trust may also be more likely to accept the actions and decisions of unified co-trustees as opposed to the decisions of a single trustee.
Some of the disadvantages of the co-trustee approach to consider are:
The possibility of disagreements between co-trustees leading to conflict and preventing the trust from being administered. 

Delays may result if all co-trustees are unable to work together to conduct trust business.

The cost to compensate multiple trustees is typically higher with the co-trustee approach. 
Choosing the Right Successor Trustee Approach for You
Before choosing whom to name as a successor trustee, you should discuss the options with your attorney and other professional advisors. Doing so will help you identify some of the potential pitfalls and complications that can arise with regard to your successor trustee choice. During this discussion, you may realize the need to make changes to your estate planning documents such as adding or eliminating beneficiaries or editing your assets. 
Before determining what the right approach is for you, consider the following questions regarding potential successor trustees:
How well does the individual I want to name as trustee work with others? Will they be able to remain neutral and enforce the guidelines of the trust without creating conflict with others?

Does the person you plan to name as trustee have sufficient time and flexibility for their duties? Being appointed successor trustee requires quite a bit of attention, therefore, whoever is appointed to the position should have plenty of time to dedicate to such a job.

If co-trustees are named, should they have the authority to act independently? You can create a co-trustee dynamic that still allows trustees to perform certain duties independently from other trustees. 

If multiple co-trustees are chosen, how will conflicts between trustees be handled and how will decisions be made?  
Successor Trustee Services from AD&R
It can be extremely difficult to determine what the best management option for your trust is. Fortunately, there are professionals out there to help make the decision more simple. If you're struggling to appoint a trustee or group of trustees, connect with the expert estate planners at Anderson, Dorn & Rader to learn more about your options. As estate planning attorneys with extensive experience serving as professional trustees, they're more than qualified to help you make the right decision regarding your legacy. 
Whether you nominate a single successor trustee or multiple co-trustees, carefully considering the pros and cons of each approach can help ensure that your wishes for the handling of your estate and trust will be honored. Contact us today so we can review your current successor trustee selections or create an estate plan with the right people in charge to assist you when needed.
SPEAK WITH AN ESTATE PLANNING ATTORNEY
Give Anderson, Dorn & Rader Ltd. a call at 775-823-9455 to make a free consultation with an estate planning attorney
and see how we can help protect your legacy and your family.
The primary purposes of a Revocable Living Trust are to avoid Probate Court's costs at death and a guardianship proceeding should the creator of the Trust (the Trustor) become incapacitated during life. In order for a Successor Trustee to properly administer the Trust in the event of incapacity or death, the assets in the Trust should be identified. 
Typically attached to an individual Revocable Living Trust is Schedule A that lists all the Trust assets. This provides a roadmap for the Successor Trustee to find the Trustor's assets held in the Trust and to begin administering the assets correctly. For married couples completing a joint Revocable Living Trust, Schedule A will identify Community Property, Schedule B will identify the Husband's Separate Property, and Schedule C will identify the Wife's Separate Property. Identifying the property's character can be very important for the Successor Trustee to properly administer the Trust for beneficiaries and determine if the step-up in income tax basis to Fair Market Value at death is applicable to the asset. The Trustors should update Schedules A, B, and C in writing as material changes are made to their assets such as new bank accounts, brokerage accounts, real estate, life insurance, safe deposit boxes, etc. While the Trustors can make updates and changes to their Schedules, the Trustors should never write on their trust document as any handwritten modification to a Trust document that is not properly executed/notarized will not be effective.
An example of Schedule A is included at the end of this article for a sample client assuming all their property is Community Property. While Schedule A provides the roadmap for administering Trust assets for Successor Trustees, it does not by itself fund assets into the Trust. To properly fund real property into a Trust, a deed must be prepared and recorded, bank account and brokerage accounts re-titled to the Trust, qualified plans and IRA beneficiary designations updated, life insurance beneficiary designations completed, and business interests assigned to the Trust. 
Consult with an Estate Planning Professional
While Estate planning can be complicated, it is essential in protecting yourself and your loved one's financial future. Give Anderson, Dorn & Rader Ltd. a call at 775-823-9455 to make a free consultation with an estate planning attorney and see how we can help protect your legacy and your family.