Trust laws exist not only to safeguard the trust and trustor, but to also set guidelines for trustees to abide by. A trustee has a duty under the law to communicate with beneficiaries and inform them of progress or changes in the trust administration. Some duties of the trustee include giving beneficiaries a copy of trust documents, providing information and timelines of the trust administration, and preparing an annual accounting synopsis of the trust's income and expenses.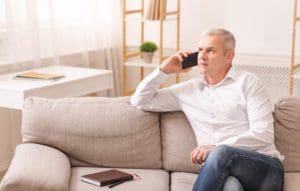 It's not uncommon for trustees to leave beneficiaries in the dark regarding new trust information. Some trustees are unaware of their duties under the law and believe they can do what they please with the trust. However, this is typically not the case, and if your trustee is unresponsive to your requests for information, you have every right to seek further action. Below are some things for you to consider when wondering how to handle an unresponsive trustee.
Determine If You Have The Proper Contact Method
How do you try to contact your trustee? Is it through email? Do you try to call? Have you sent a letter through the mail? It could be very possible that your trustee simply isn't checking in on all of their inboxes all the time. A trustee who simply doesn't check their email regularly may respond quicker to a phone call or text message. If you're not getting response through phone or texts, you could try sending them a formal letter.
You should also consider the relationship you and the trustee have with each other. If communication typically escalates into hostility between you two, it's possible that the trustee may be avoiding you on purpose, even though this goes against their duties to keep all beneficiaries informed. If you cannot speak civilly in person or over the phone, it's important that you keep all communication in writing. Just be sure to ask your questions very clearly and request information without accusations. If this still doesn't work and your trustee remains unresponsive, it may be time to seek legal assistance.
When To Involve An Attorney
An attorney may be involved in trust communication between beneficiaries and trustees in one of two ways. Most trustees have attorneys who represent them. If you're having a hard time getting a hold of the trustee, try contacting their lawyer instead. If a trustee is oblivious to their duties under law, an attorney can ensure they are made aware of their responsibilities and encourage the trustee to comply. Some trustees may not want to directly communicate with beneficiaries of the trust, in which case their attorney may be the direct point of contact. To get information via a trustee's attorney, be sure to follow up your initial call or text with the requests you wish to receive and any attempts you have made to contact the trustee.
If you feel a lack of proper representation in a situation like this, you may also seek out your own attorney. They'll be able to clearly identify your rights as a beneficiary, and will give you the backup you need to enforce them. It's always a good idea to have an objective intermediary that can assist in getting you the information you are rightfully entitled to.
File A Petition With The Court
If you and your attorney are still being met with no response, then your last option is to file a petition with your local court. Before you do this though, you should confirm that your attorney is familiar with trust laws and administration. This can make or break your petition's success. If the trustee fails to respond to the petition, the court can then remove the trustee from the trust. This might also make the trustee liable for any losses or damages the beneficiaries experienced as a result of their lack of communication and ability to perform their duties. A court petition gives additional resources like subpoenas, depositions, and requests for documents to help you get the information you're seeking. This should be used as the last method for handling an unresponsive trustee, as it can be costly and emotionally messy.
Trustees can conjure various reasons for being unresponsive, but they are legally obligated to communicate with and provide beneficiaries with certain information regarding the trust. Before you go filing a petition right away, try another method of contacting the trustee. If a phone call isn't working, try an email or maybe send a letter instead. If this still doesn't garner any results, involve an attorney. They will help get the ball rolling and will likely encourage the trustee to come forward with their information. Only as a last result should a petition be filed with your local court.
Connect With Reliable Trust Attorneys
If you have any questions regarding how to contact an unresponsive trustee, be sure to reach out to the reliable and experienced trust attorneys at Anderson, Dorn & Rader. We're happy to help you get the information from the trust administration that you are entitled to, and are dedicated to providing the highest quality estate planning resources available.