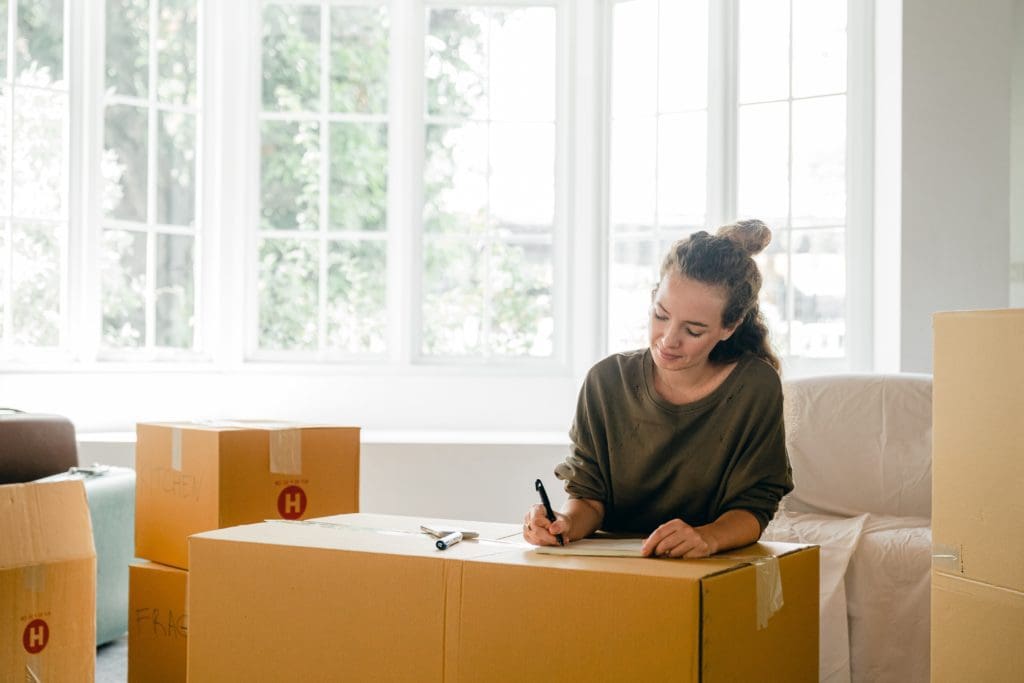 May marks not only the end of the academic year and the start of summer, but it also marks the beginning of the busiest season for moving - National Moving Month! When you're moving, there are numerous tasks to tackle, including packing your belongings, managing utilities, forwarding mail, updating voter registration, and more. As you prepare for your next move, there are two major tasks to take into consideration:
Locating Your Important Documents
In all of the chaos of moving boxes and packing tape, it is easy for things to get lost in the shuffle or even thrown out during a move. Certain important documents, such as birth certificates, social security cards, passports, financial statements and estate planning documents, should not be packed up and put on the moving truck along with your less important belongings. Keep these important documents safe and accessible during your move and ensure that they do not get thrown out by accident.
One idea is to purchase a portable file box with an attached lid and a secure latch. You might consider purchasing a brightly colored one so that it is easily identifiable. Then, place this file box in a secure and easily accessible location. If you are moving locally, a logical place might be at a family member's or friend's home. If you are moving a longer distance, that place might be the trunk of your car.
Having electronic backup copies of your important documents is a wise decision, especially during a move. You can take pictures of your documents and save them on your smartphone or a password-protected removable flash or external hard drive. Another option would be to store it in the cloud. This way, you'll always have a copy of these important documents in case you cannot locate the original.
Adding this step to your moving checklist can save you time and from stress. For example, you will not have to run around searching through unpacked boxes for your children's birth certificates to register them for their new school.
Meeting with Your Advisor Team
When moving, it's important to not only contact the moving company, but also to reach out to your team of advisors. A major consideration is the cost associated with the move, which is influenced by factors like the size of your home, the distance of the move, and your preference for do-it-yourself tasks. To ensure your moving expenses align with your long-term financial objectives, it's advisable to consult your financial advisor and establish a moving budget.
It is recommended to contact your estate planning attorney if you are moving different states. While a will or trust created in one state should generally be valid in another, certain documents such as a financial or medical power of attorney may be state-specific. Due to the variations in estate planning laws across different states, it is strongly advised that you have your estate planning documents examined to ensure their effectiveness in your new state. You can have your attorney review the documents or they can assist you in finding a local attorney who can review them for you in your new state.
If you and your spouse are moving out of or into a community property state, your estate planning may be more complicated. In these states, any property acquired during the marriage is presumed to be owned equally by both spouses, while property brought into the marriage by one spouse or acquired by gift or inheritance is separate property. Moving from a community property state to a common law state or vice versa raises questions about the status of community property. For instance, if a couple purchases a home in California during their marriage and then moves to Nebraska and buys a new home with the proceeds from selling their California home, is the new Nebraska home community property? Your estate planning attorney can answer these questions and help you take necessary steps to maintain any tax benefits.
Moving involves many things to consider, but don't forget to keep your important documents secure and meet with your team of advisers. These are crucial items to add to your moving checklist. If you're planning to move soon, we would be more than happy to help you keep this as smooth as possible.