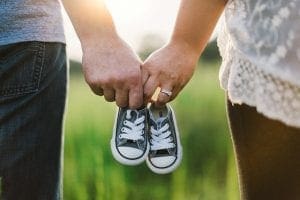 Creating an estate plan to protect your minor children is one of the most important things you will ever do.  When you and your spouse have separated or divorced, creating or revising your estate plan is not generally top of mind.    However, if you have minor children it is in their best interests for you to discuss your estate planning with your ex-spouse.
Necessary Revisions to an Estate Plan Following Divorce
There are three important estate planning issues that need to be considered after a divorce: guardianship, financial inheritance and the possibility of remarriage.  All of these issues will likely require revisions to an existing estate plan.  If you have not created an estate plan yet, then you need to establish one with these three issues in mind.
Guardianship Issues Following Divorce
If one parent passes away, guardianship automatically passes to the surviving biological parent, regardless of the status of custody, unless the surviving parent is determined to be unfit.  However, the possibility that your minor child may need a non-parental guardian must also be considered.  For this reason, it is important to discuss the nomination of a guardian with your ex-spouse.  If you can come to an agreement on this issue and include it in your estate plan, everyone will feel more secure about your child's future.
Your Minor Child's Financial Inheritance
A major concern for many divorced couples is who will have control over their estate when the child inherits from a deceased parent.  Obviously, a minor child is unequipped and lacks legal capacity to handle their own finances.  It is the child's guardian who is typically in charge of an inheritance.  When that guardian will be the ex-spouse, most couples have a problem with that idea.  The solution is to place your child's inheritance in trust until he or she reaches an appropriate age when you feel he or she should be ready to properly manage the inheritance.  Until the child reaches that age a third-party would be selected as trustee who will have the responsibility of maintaining the trust and distributing the income and assets either to the guardian for the benefit of your child, or directly to vendors and service providers for the benefit of the minor child.  Because your trustee and guardian will often be required to work together, and to try to avoid a designation of a guardian that conflicts with that of your ex-spouse, it would be best for you and your ex-spouse to agree on someone with whom you both are comfortable.
Planning for the Possibility of Remarriage
When couples get married, in most cases their finances become commingled at least to some degree.  The same is true for a subsequent marriage following divorce.  If you fail to include provisions in your estate plan for your minor children, all or most of your assets may automatically pass to your new spouse upon your death, leaving your child with insufficient recourses to provide for his or her health, education, maintenance and support.  This can be prevented by simply including the proper provisions in your estate plan.
If you have questions regarding divorce, or any other estate planning needs involving minor children, please contact Anderson, Dorn & Rader, Ltd., either online or by calling us at (775) 823-9455.